Slate Roofing in Carmarthen
Carmarthen slate roofing specialists
Choosing us for your slate roofing in Carmarthen means you have the security of a skilled and highly regarded slate roofing company with an excellent track record. Our team have excellent knowledge and are highly skilled in slate re-roofing, roof restoration and roof repairs. Slate is a hard material and so if a tile falls it will probably break, and slate tiles might also crack, but our roofers can replace part of roofs or single tiles to keep your roof looking wonderful.
Get in touch now for:
Repairing slate roofing in Carmarthen
Full or part re-roofing
Construction of new roofs
Replacing missing slate tiles
New/replacement ridge tiling
Slate cleaning/maintenance
Free quotes for your slate roofing and repair work
A full range of slate roofing jobs completed in Carmarthen
We've been providing Carmarthen homeowners with a full slate roofing service for over 20 years. Our work is supported by our insurance guarantee, meaning you can sit back and relax knowing our local, professional, Carmarthen roofers have the job taken care of.
Learn More About Our Services
Free Quotations From The Carmarthen Roofers
We'll be delighted to come and give you a no obligation free estimate on any service you might need. We are very proud of our low prices and fantastic service. Quality is uppermost in our minds when completing the work. You can relax with the knowledge that we will deliver a professional service, and at the best price, wherever you are in Carmarthen. For re-roofing we also take care regulations that need following.
Call 07775 771919 to discuss your slate roofing installations and repairs with one of our Carmarthen based roofers.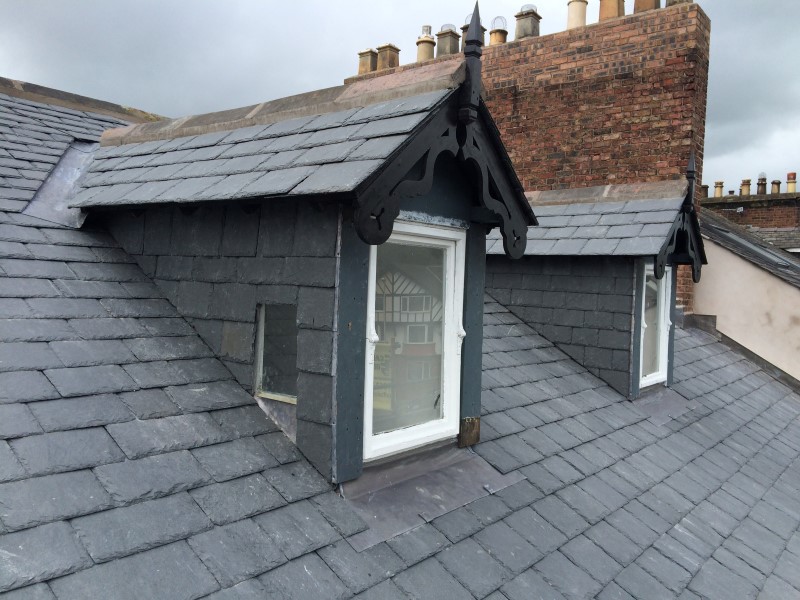 Here are Some Handy Tips on Looking After Your Roof
Be sure to look at your roof at least once each year for small issues such as loose slates, loose ridges on the outside and look for damp areas especially on roof timbers internal. If in any doubt get a specialist slate roof repairer in to check, not all cracks, flaking or changes in colour necessarily mean the roof necessitates repair.
Keep an eye on any vegetation which starts to grow in the roof or gutters and get rid of moss debris and anything that might hold water or prevent it from flowing off the roof. Look for ivy as this can dislodge slates the higher it grows.
Hiring a roofer with specialist and proven experience in working with stone slate roofs is sensible. It is common sense to check that they can show you local examples of the standard of their work.
Do not leave minor problems, as they will invariably result in larger and more expensive issues as time passes.
Do not bed stone slates in mortar. The mortar can draw moisture between the stones and into the roof, and also damages the stone.
T J LLoyd Building and Roofing Services
Blaenwaun, Gibeon Road
Carmarthen
,
Sir Gaerfyrddin
SA33 5NR
GB